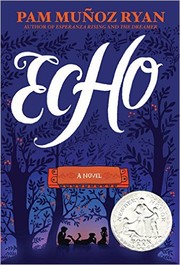 Fic Rya
Echo
557 Broadway, New York, NY 10012 : Scholastic, Inc, 2015.
585 Pages ; 5 3/4" x 8 3/4".
Lost in the forest, Otto meets three mysterious sisters and finds himself entwined in a prophecy, a promise, and a harmonica--and decades later three children, Friedrich in Germany, Mike in Pennsylvania, an Ivy in California find themselves caught up in the same thread of destiny in the darkest days of the twentieth century, struggling to keep their families intact, and tied together by the music of the same harmonica.
Accelerated Reader: Level 4.9 / 13.0 Points
Available
Hardback Book
1 copy available at Dent-Phelps R-III
| | |
| --- | --- |
| ISBN: | |
| Author: | |
| Title: | |
| Publisher: | 557 Broadway, New York, NY 10012 : Scholastic, Inc, 2015. |
| Physical: | 585 Pages ; 5 3/4" x 8 3/4". |
| Summary: | Lost in the forest, Otto meets three mysterious sisters and finds himself entwined in a prophecy, a promise, and a harmonica--and decades later three children, Friedrich in Germany, Mike in Pennsylvania, an Ivy in California find themselves caught up in the same thread of destiny in the darkest days of the twentieth century, struggling to keep their families intact, and tied together by the music of the same harmonica. |
| Study Program: | |
| Subject: | |
| Subject: | |
| Subject: | |
| Call: | Fic Rya |
| Link: | |
| Link: | |
| Field | Ind | Subfield | Data |
| --- | --- | --- | --- |
| 001 Control No | | | 13839 |
| 005 LastTransaction | | | 20170617165215.0 |
| 020 ISBN | | $a ISBN | 978-0-439-87402-1 |
| 100 ME:PersonalName | | $a Personal name | Ryan, Pam Munoz. |
| 245 Title | 0 | $a Title | Echo / |
| | | $c Statement of responsibility | By Pam Munoz Ryan. |
| 260 PublicationInfo | | $a Place of publication, dist. | 557 Broadway, New York, NY 10012 : |
| | | $b Name of publisher, dist, etc | Scholastic, Inc, |
| | | $c Date of publication, dist, etc | 2015. |
| 300 Physical Desc | | $a Extent | 585 Pages ; |
| | | $c Dimensions | 5 3/4" x 8 3/4". |
| 520 Summary | | $a Summary, etc. note | Lost in the forest, Otto meets three mysterious sisters and finds himself entwined in a prophecy, a promise, and a harmonica--and decades later three children, Friedrich in Germany, Mike in Pennsylvania, an Ivy in California find themselves caught up in the same thread of destiny in the darkest days of the twentieth century, struggling to keep their families intact, and tied together by the music of the same harmonica. |
| 526 Study Program | 02 | $a Program name | AR |
| | | $c Reading level | 4.9 |
| | | $a Program name | Lexile |
| | | $c Reading level | 690L--MG |
| | | $d Title point value | 13.0 |
| | | $l Quiz Number | 171965. |
| 650 Subj:Topic | | $a Topical term | Magic |
| | | $x General subdivision | Fiction |
| 650 Subj:Topic | | $x General subdivision | Fiction |
| | | $a Topical term | Destiny |
| 650 Subj:Topic | | $a Topical term | Harmonica |
| | | $x General subdivision | Fiction. |
| 852 Holdings | | $a Location | DPR3S |
| | | $h Classification part | Fic Rya |
| | | $p Barcode | 934312 |
| | | $9 Cost | $19.99 |
| 856 ElectronicLocat | 4 | $3 Materials specified | Cover image |
| | | $u Uniform Resource Identifier | https://covers.openlibrary.org/b/id/7421083-M.jpg |
| 856 ElectronicLocat | 4 | $3 Materials specified | Author photo |
| | | $u Uniform Resource Identifier | https://covers.openlibrary.org/a/olid/OL65310A-M.jpg |