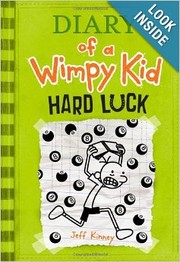 Fic Kin
Diary of a wimpy kid : Double Down
115 West 18th Street, New York, NY 10011 : Abrams The Art of Books, 2016.
217 pages ; 5 1/2" x 8".
"Greg Heffley's Mom says that he needs to get off the video games, because they are turning his brain to mush, and he must work on his creative side. Provided by publisher.
Accelerated Reader: Level 5.5 MG / 3 Points / Test #162772
Due 10/04/17
Regular
All copies at Dent-Phelps R-III are out and the next copy is due back 10/04/17
| | |
| --- | --- |
| ISBN: | |
| LC Call No: | PZ7.K6232 Dj 2013 |
| Author: | |
| Title: | |
| VaryingTitle: | |
| Publisher: | 115 West 18th Street, New York, NY 10011 : Abrams The Art of Books, 2016. |
| Physical: | 217 pages ; 5 1/2" x 8". |
| ContentType: | |
| MediaType: | |
| CarrierType: | |
| Series: | Diary of a Wimpy Kid |
| Summary: | "Greg Heffley's Mom says that he needs to get off the video games, because they are turning his brain to mush, and he must work on his creative side. Provided by publisher. |
| Study Program: | Accelerated Reader 5.5 3.0 Test #113950, Available Lexile 990L--MG 185282 |
| Study Program: | |
| Subject: | |
| Subject: | |
| Subject: | |
| Subject: | |
| Subject: | |
| Subject: | |
| Call: | Fic Kin |
| Link: | |
| Link: | |
| Field | Ind | Subfield | Data |
| --- | --- | --- | --- |
| 001 Control No | | | 13806 |
| 005 LastTransaction | | | 20170327155018.0 |
| 008 Data Elements | | | 130914s2013 nyu c 000 1 eng |
| 010 LCCN | | $a Record content licensor | 2013033173 |
| 020 ISBN | | $a ISBN | 978-1-41971132-9 (hardback) |
| 035 System Ctrl No | | $a System control number | 17886837 |
| 035 System Ctrl No | | $a System control number | 12242 |
| 040 Cataloging Src | | $a Original cataloging agency | DLC |
| | | $b Language of cataloging | eng |
| | | $c Transcribing agency | DLC |
| | | $e Description conventions | rda |
| 042 Authentication | | $a Authentication code | lcac |
| | | $a Authentication code | pcc |
| 050 LC Call No | 00 | $a Classification number | PZ7.K6232 |
| | | $b Item number | Dj 2013 |
| 082 Dewey Class No | 00 | $a Classification number | [Fic] |
| | | $2 Edition number | 23 |
| 100 ME:PersonalName | 1 | $a Personal name | Kinney, Jeff. |
| 245 Title | 10 | $a Title | Diary of a wimpy kid : |
| | | $b Remainder of title | Double Down / |
| | | $c Statement of responsibility | by Jeff Kinney. |
| 246 VaryingTitle | 30 | $a Title proper/short title | Hard luck |
| 260 PublicationInfo | | $a Place of publication, dist. | 115 West 18th Street, New York, NY 10011 : |
| | | $b Name of publisher, dist, etc | Abrams The Art of Books, |
| | | $c Date of publication, dist, etc | 2016. |
| 263 ProjectdPublish | | $a Projected publication date | 1311 |
| 264 ProductnNotice | 1 | $a Place of prod/dist/manuf. | New York : |
| | | $b Name of prod./pub./dist./man. | Amulet Books, |
| | | $c Date of prod/dist/manuf/copyrt | 2013. |
| 300 Physical Desc | | $a Extent | 217 pages ; |
| | | $c Dimensions | 5 1/2" x 8". |
| 336 ContentType | | $a Content type term | text |
| | | $2 Source | rdacontent |
| 337 MediaType | | $a Media type term | unmediated |
| | | $2 Source | rdamedia |
| 338 CarrierType | | $a Carrier type term | volume |
| | | $2 Source | rdacarrier |
| 490 SeriesStatement | | $a Series statement | Diary of a Wimpy Kid |
| 520 Summary | | $a Summary, etc. note | "Greg Heffley's Mom says that he needs to get off the video games, because they are turning his brain to mush, and he must work on his creative side. |
| | | $c | Provided by publisher. |
| 526 Study Program | | $a Program name | Accelerated Reader |
| | | $c Reading level | 5.5 |
| | | $d Title point value | 3.0 |
| | | $z Public note | Test #113950, Available |
| | | $a Program name | Lexile |
| | | $c Reading level | 990L--MG |
| | | $l Quiz Number | 185282 |
| 526 Study Program | | $a Program name | Accelerated Reader |
| | | $b Interest level | MG |
| | | $c Reading level | 5.5 |
| | | $d Title point value | 3 |
| | | $z Public note | Test #162772 |
| | | $5 Institution | DPR3S. |
| 650 Subj:Topic | 1 | $a Topical term | Friendship |
| | | $v Form subdivision | Fiction. |
| | | $x General subdivision | Fiction |
| 650 Subj:Topic | 1 | $a Topical term | Hallowee |
| | | $v Form subdivision | Fiction. |
| | | $x General subdivision | Fiction |
| 650 Subj:Topic | 1 | $a Topical term | Middle schools |
| | | $v Form subdivision | Fiction. |
| | | $x General subdivision | Fiction |
| 650 Subj:Topic | 1 | $a Topical term | Video Games |
| | | $v Form subdivision | Fiction. |
| | | $x General subdivision | Fiction |
| 650 Subj:Topic | 1 | $a Topical term | Diaries |
| | | $v Form subdivision | Fiction. |
| | | $x General subdivision | Fiction |
| 650 Subj:Topic | 1 | $a Topical term | Humorous stories. |
| 852 Holdings | | $a Location | DPR3S |
| | | $h Classification part | Fic Kin |
| | | $p Barcode | 934277 |
| | | $9 Cost | $8.99 |
| 856 ElectronicLocat | 4 | $3 Materials specified | Cover image |
| | | $u Uniform Resource Identifier | https://covers.openlibrary.org/b/id/7268632-M.jpg |
| 856 ElectronicLocat | 4 | $3 Materials specified | Author photo |
| | | $u Uniform Resource Identifier | https://covers.openlibrary.org/a/olid/OL2832500A-M.jpg |