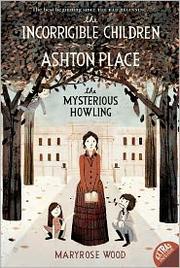 Fic Woo
The Mysterious Howling : Book 1
10 East 53rd Street, New York, NY 10022 : HarperCollins Children's Books, 2010.
267 Pages : John Klassen ; 5 1/4" x 7 1/2".
Miss Penelope Lumley, a recent graduate of the Swanburne Academy for Poor Bright Females, is hired as a governess to three young children who have been raised by wolves and must teach them to behave in a civilized manner quickly, in preparation for a Christmas ball.
Accelerated Reader: Level 6.8 / 9.0 Points
Available
Regular
1 copy available at Dent-Phelps R-III
| | |
| --- | --- |
| ISBN: | |
| Author: | |
| Title: | |
| Edition: | 1st. |
| Publisher: | 10 East 53rd Street, New York, NY 10022 : HarperCollins Children's Books, 2010. |
| Physical: | 267 Pages : John Klassen ; 5 1/4" x 7 1/2". |
| Series: | The Incorrigible Children of Ashton Place |
| Summary: | Miss Penelope Lumley, a recent graduate of the Swanburne Academy for Poor Bright Females, is hired as a governess to three young children who have been raised by wolves and must teach them to behave in a civilized manner quickly, in preparation for a Christmas ball. |
| Study Program: | |
| Subject: | |
| Subject: | |
| Call: | Fic Woo |
| Link: | |
| Field | Ind | Subfield | Data |
| --- | --- | --- | --- |
| 001 Control No | | | 14479 |
| 005 LastTransaction | | | 20180603010234.0 |
| 020 ISBN | | $a ISBN | 978-0-06-179110-9 |
| 100 ME:PersonalName | | $a Personal name | Wood, Maryrose. |
| 245 Title | 4 | $a Title | The Mysterious Howling : |
| | | $b Remainder of title | Book 1 / |
| | | $c Statement of responsibility | By Maryrose Wood. |
| 250 Edition | | $a Edition statement | 1st. |
| 260 PublicationInfo | | $a Place of publication, dist. | 10 East 53rd Street, New York, NY 10022 : |
| | | $b Name of publisher, dist, etc | HarperCollins Children's Books, |
| | | $c Date of publication, dist, etc | 2010. |
| 300 Physical Desc | | $a Extent | 267 Pages : |
| | | $b Other physical details | John Klassen ; |
| | | $c Dimensions | 5 1/4" x 7 1/2". |
| 490 SeriesStatement | 0 | $a Series statement | The Incorrigible Children of Ashton Place |
| 520 Summary | | $a Summary, etc. note | Miss Penelope Lumley, a recent graduate of the Swanburne Academy for Poor Bright Females, is hired as a governess to three young children who have been raised by wolves and must teach them to behave in a civilized manner quickly, in preparation for a Christmas ball. |
| 526 Study Program | 02 | $a Program name | AR |
| | | $c Reading level | 6.8 |
| | | $a Program name | Lexile |
| | | $c Reading level | 1000L MG |
| | | $d Title point value | 9.0 |
| | | $l Quiz Number | 135540. |
| 650 Subj:Topic | | $a Topical term | Governess |
| | | $x General subdivision | Fiction |
| 650 Subj:Topic | | $a Topical term | Feral Children |
| | | $x General subdivision | Fiction. |
| 852 Holdings | | $a Location | DPR3S |
| | | $h Classification part | Fic Woo |
| | | $p Barcode | 934998 |
| | | $9 Cost | $6.99 |
| 856 ElectronicLocat | 4 | $3 Materials specified | Cover image |
| | | $u Uniform Resource Identifier | https://covers.openlibrary.org/b/id/6680860-M.jpg |