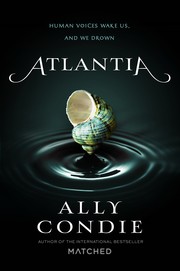 Fic Con
Atlantia
375 Hudson Street, New York, NY 10014 : Penguin Group, 2014.
298 pages : with cover ; 6 1/2 x 9 1/4.
For as long as she can remember, Rio has dreamed of the land above, her hopes of that are shattered when her twin sister makes an unexpected choice and leaves her stranded in Alantia.
Accelerated Reader: Level 4.6 UG / 16 Points / Test #155307
Available
Hardback Book
1 copy available at Dent-Phelps R-III
| | |
| --- | --- |
| ISBN: | |
| Author: | |
| Title: | |
| Publisher: | 375 Hudson Street, New York, NY 10014 : Penguin Group, 2014. |
| Physical: | 298 pages : with cover ; 6 1/2 x 9 1/4. |
| Series: | |
| Summary: | For as long as she can remember, Rio has dreamed of the land above, her hopes of that are shattered when her twin sister makes an unexpected choice and leaves her stranded in Alantia. |
| Study Program: | |
| Study Program: | |
| Study Program: | |
| Subject: | |
| Subject: | |
| Subject: | |
| Subject: | |
| Call: | Fic Con |
| Link: | |
| Field | Ind | Subfield | Data |
| --- | --- | --- | --- |
| 001 Control No | | | 14472 |
| 005 LastTransaction | | | 20180603010234.0 |
| 007 Phys Desc Fixed | | | ta |
| 008 Data Elements | | | 130506|||||||||||||||||||||||||||||eng|u |
| 020 ISBN | | $a ISBN | 978-0-525-42644-8 : |
| | | $c Terms of availability | 17.99 |
| 035 System Ctrl No | | $a System control number | 11740 |
| 100 ME:PersonalName | 1 | $a Personal name | Condie, Ally. |
| 245 Title | 10 | $a Title | Atlantia / |
| | | $c Statement of responsibility | By Ally Condie. |
| 260 PublicationInfo | | $a Place of publication, dist. | 375 Hudson Street, New York, NY 10014 : |
| | | $b Name of publisher, dist, etc | Penguin Group, |
| | | $c Date of publication, dist, etc | 2014. |
| 300 Physical Desc | | $a Extent | 298 pages : |
| | | $b Other physical details | with cover ; |
| | | $c Dimensions | 6 1/2 x 9 1/4. |
| 440 Series Title | 0 | $a Title | Matched Trilogy ; |
| | | $v Vol. no./sequential designtion | 3 |
| 520 Summary | | $a Summary, etc. note | For as long as she can remember, Rio has dreamed of the land above, her hopes of that are shattered when her twin sister makes an unexpected choice and leaves her stranded in Alantia. |
| 526 Study Program | | $a Program name | AR |
| | | $c Reading level | 4.7 |
| | | $d Title point value | 12.0 |
| | | $a Program name | Lexile |
| | | $c Reading level | 680L MG |
| | | $l Quiz Number | 169343 |
| 526 Study Program | | $a Program name | Accelerated Reader |
| | | $c Reading level | 4.6 |
| | | $d Title point value | 16.0 |
| | | $z Public note | Test #155307, Available |
| 526 Study Program | | $a Program name | Accelerated Reader |
| | | $b Interest level | UG |
| | | $c Reading level | 4.6 |
| | | $d Title point value | 16 |
| | | $z Public note | Test #155307 |
| | | $5 Institution | DPR3S. |
| 650 Subj:Topic | 4 | $a Topical term | Atlantia |
| | | $x General subdivision | fiction |
| | | $x General subdivision | fantasy |
| 650 Subj:Topic | | $a Topical term | Sirens |
| | | $x General subdivision | Fiction |
| 650 Subj:Topic | | $a Topical term | Mystery |
| | | $x General subdivision | Fiction |
| 650 Subj:Topic | | $a Topical term | Twins |
| | | $x General subdivision | Fiction. |
| 852 Holdings | | $a Location | DPR3S |
| | | $h Classification part | Fic Con |
| | | $p Barcode | 934989 |
| | | $9 Cost | $18.99 |
| 856 ElectronicLocat | 4 | $3 Materials specified | Cover image |
| | | $u Uniform Resource Identifier | https://covers.openlibrary.org/b/id/7372977-M.jpg |